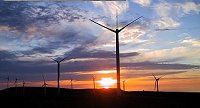 Let's visit our municipality!
Come along - let's take a journey throughout Måsøy kommune!
Our municipality is situated 71 degrees north, on the northernmost part of the coast of Finnmark. The stretch from Kokelv to Havøysund, on the riksvei 889 (national road 889), is rather particular and has for this reason received status as a national tourist route. Join us on a journey through our municipality, a journey that will take us over land and ocean.

Let us start our journey in Kokelv, which is the beginning point of riksvei 889. Our first stop is in Lillefjord, a Lapp village. Many of its inhabitants have left in recent years. Its school and shop have therefore been closed down. Mail is brought by the rural postman and those of the villagers who still have a job either commute or fish, as a general rule. Minutes before we arrive there you can have a look at the local sphinx, a rock formation thus called because of its resemblance to the Egyptian Sphinx of old. At the very end of the fjord the landscape envelopes around a water fall from a rocky range which is quite similar to the Lofoten Mountains.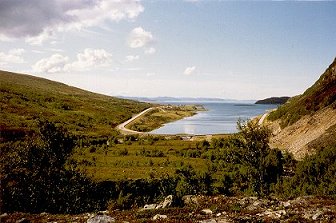 The next populated area is Latter, situated just a few kilometres further north on Kvalnesklubben. From here we will arrive in Slåtten next, but before we do, you can enjoy the many beautiful rock formations, beach areas, and tree- and bush-covered hillsides which contain a rich variety of bird and other animal habitats. In Slåtten we find a small market garden not far from the village chapel. The chapel has been there since 1896.
We continue our journey down Slåtteneidet on our way to Snefjord. As in Lillefjord people here receive their mail by the rural postman. But in Lillefjord we find local shops and a fish factory. Fishing opportunities in the sea and in the lakes are many, and during the summer Lapps come to let their reindeers graze here. This is a beautiful area and might tempt you into taking long walks into Snefjordvassdraget and Krokelvdalen.
From here we pass Bakfjordhøyda and Bakfjorddalen before we make it to Bakfjord. In wintertime this stretch is often closed due to enormous amounts of snow and harsh weather conditions. In summertime, however, the same stretch is a truly stunning sight for anyone to see. However, no-one lives in Bakfjord anymore. Some cabins and a quay are all there is to see.
Leaving Bakfjord we then pass Håkonstabben (between Bakfjorden and Selvika), which is a huge rock formation on a slope by the road. Upon building the road to Havøysund very heavy explosives were used here; however, Håkonstabben did not give in, which is why it is still here today.
From Bakfjord and further on towards Havøy there are many traces of settlements which are more than 6000 years old. In Selvika there is a nature trail along "Fotefar langs nord" (various archaeological findings of ancient migration from the south to the north). Among people in Havøysund Selvika is also a popular place to go swimming or sunbathing. During the second World War a group of Russians hid from the Germans by staying in a cave now called "Russerhula" (the Russian cave). This cave is easy to get to from the road and gives anyone who visits the cave insight into what conditions the Russians were living under while hiding.

The centre of the municipality, Havøysund, is connected to the mainland by a bridge, which was opened by the late King Olav. Havøysund is a fishing village which offers a generally wide range of common services. Here are fishing factories, a boat yard, a petrol station, doctors, a church, various shops, a sports hall, and two museums, just to mention some of the things you will find here. Havøysund also has a varied and lovely architecture; all the way along the beach one finds post-war houses, the so-called "gjenreisingshus" (the houses built after World War II all had the same design). Up in the valley there are houses from later decades. From the valley it takes half an hour by foot to reach the Gavel, the highest point on the island. From here one has an excellent view of the Arctic Ocean and the Havøysund wind turbines. In 2002 Arctic Wind placed 16 wind turbines on the Gavel. These wind turbines are a great sight from the village centre, but are best appreciated from the Gavel itself.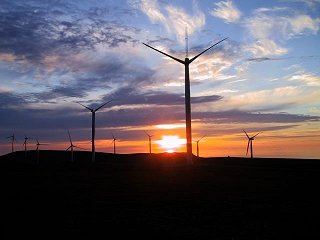 From Havøysund one can reach the islands Ingøy, Rolvsøy, and Måsøya by boat almost daily, during the summer Ryggefjord as well. Ryggefjord was once an active fishing village where people also kept animals, but is today mostly used for recreation by the owners of the approximately forty cabins built in the Hamna-area and up in the beautiful Hamnedalen. Ryggefjord is an excellent alternative for people who love nature and fresh-water fishing.

Twenty minutes eastwards by boat from Havøysund lies the island Måsøya, covered by sea spray in wintertime and bathed in midnight sun in summertime. Måsøya was the centre of our region in the 1700s and has given name to the municipality of Måsøy. Magnus Brostup Landstad, a well-known psalm poet and researcher of life and manners, was born on Måsøya in 1812. The French prince Louis Philip visited the island towards the end of 18th century. Madame Juel, a café landlady from Copenhagen, also lived there for many years.
Today Måsøya is an active fishing village with a school, a church, a shop, and a post office. There are no cars here. Further, the island has a herd of around 40 reindeers. There are also tofts from the Stone Age here, and - if one pleases – one may enjoy a refreshing swim along the long white beaches.

West of Havøysund lies Rolvsøy, which is the largest island (89 square kilometres) in the municipality. It takes 25 minutes by boat to get there from Havøysund. Numerous fishing lakes, rich berry marshes, and small game leave an impression on the first-time visitor which he or she will never forget. On the eastern part of the island one finds the fishing village Tufjord, and on the western part between high mountains and deep fjords, Gunnarnes, which is a small village with a church. Rolvsøy is particularly interesting because of its flora and fauna. Tufjord has the oldest settlement on the island. Its roots go back to the late Middle Ages.

Ingøy lies in the far north-west in the municipality, about half an hour away by boat from Rolvsøy. Only a few people live on this island. However, five hundred years ago Ingøy was one of the busiest fishing communities in Finnmark and is described as a city in older history books, for this reason. Even today the island has a well-functioning network of roads. Here you will also find a church, a shop, a post office, and a fish factory. Off the western side of Ingøy lies Fruholmen lighthouse, the northernmost lighthouse in the world with a staff. There are no freshwaters on the island, though, but it is an excellent place to fish in the sea. It is also ideal for hunting and berry picking since the island has many marshes, mountains, holms, and rocks. Ingøy is also the home of Arctic Workshop, a well-known ceramics workshop in our region.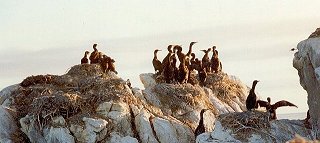 Hjelmsøy, just off the coast of Havøysund, can only be reached on your own by boat (no ferry). The last people who lived there left in the 60s. However, many old houses on the island are used as huts today. New huts have also been built there. The island's main attraction is the bird mountain, Hjelmsøystauren. Hjelmsøystauren is unique since it has one of the highest numbers of different bird species in all of Europe, when compared to other bird mountains. Here you will see kittiwakes, common guillemots, and razorbills among the numerous bird species that nest here.
The municipality of Masøy's main source of income comes from fishing. In addition to this you will find large areas where people do not live. For this reason our municipality offers great opportunities for fishing, hunting, and mountain walking. The beautiful landscape here will leave an impression on you that you will carry with you for life. And make you want to come back!
The municipality of Måsøy with its 1400 inhabitants is a coastal pearl and a place well worth visiting!